I have lived in my tiny house for over a year now. It's been trial through fire, and I have learned a lot about what works in my space and what doesn't.  Over the last year, I have discovered a few things that have made tiny house living a little bit easier. So whether you live in a tiny house or a tiny apartment, here are 10 tiny game changers to consider.
The Collapsible Laundry Basket
For laundry day chores, you can't beat this 24.5 x 17.5 x 3.5 inches collapsible laundry basket. It folds amazingly flat when you aren't using it. Collapsible baskets, storage containers, and buckets are the way to go. Whenever we move I load it up with my breakables and plants. It's easy to wipe out if any dirt jiggles out of the pots.
Sofa Arm Tray Table
This might not be as pretty as some others on the market right now, but it is the best sofa arm tray table. It grips the arms better than the foldable wooden ones. It's made of eco-friendly rubberized wood and has two spring-loaded arm grips. It's perfect for a cup of coffee or an iced tea. It also has a small protective lip for spills. If burgundy isn't your color, don't worry, it comes in black or white too.
Corner Drying Rack
My very favorite dish rack is the one that rolls over the sink, we use ours every day. But if that interferes too much with your sink, consider this space-saving corner drying rack. It's made of high-quality stainless steel and is super easy to clean. It has a separate black plastic cutlery compartment and the rack accommodates more plates than you would think.
Cord Organizer 
These are Smart Wire Wiring Cord Cable Drop Clips Ties Organizers. These bad boys keep my headphones, chargers and other cords from dropping down between my mattress and wall, or off of my nightstand. Obviously, you can use them anywhere. It's amazing how a little thing like this can save you a great deal of aggravation!

Nesting Bowls With Measuring Cups
I try to limit the plastic in my house, but the truth is, in a tiny house you have to consider the weight of things. If I have to have plastic in my house, I make sure it is BPA-free. I am a big fan of Joseph Joseph. Their nesting storage boxes are amazing! I am also a big fan of this 9-piece nesting bowl set. It includes measuring cups, a colander, and sieve! Everything nests into each other beautifully to save a ton of space in a place where cupboard space is the premium real estate. The pieces have a non-slip base.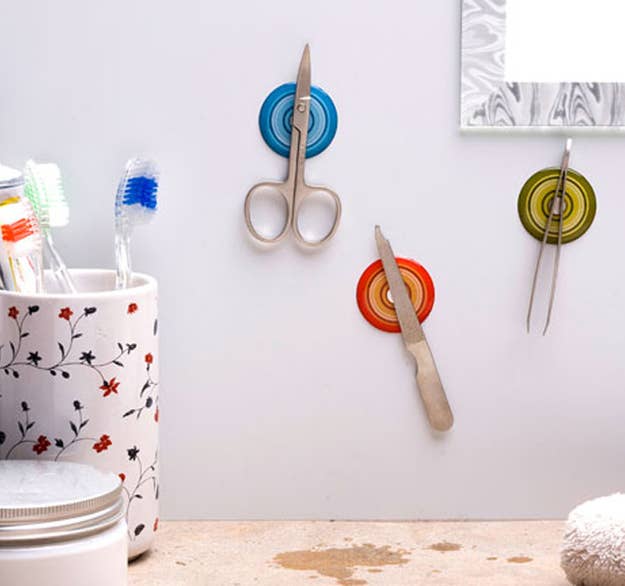 Magnetic Stickers
Genius, pure genius! In the bathroom, magnetic stickers keep the tweezers and grooming scissors at your fingertips. In the kitchen, it keeps your favorite paring knife at the ready. You get 3 in a pack for $15. Oh, I love things that make use of the vertical space!
Collapsible Grater